Elizabethan outfit for Maria, age 4.5 months.
The outfit was based on descriptions and pictures in "History of children's clothing in England" by Phillis Cunnington and Anne Buck. Thanks to Mistress Rowan who told me of the book when I mumbled about an Elizabethan outfit for Maria.
Properly, Maria should still be swaddled to be a properly period baby. I was fairly certain she wouldn't be impressed with that idea, though, so I looked for something a little more mobile. The picture in particular that served as inspiration was this; a portrait of Catherine, Countess of Hertford and her infant son, Audley End, Essex, from circa 1563.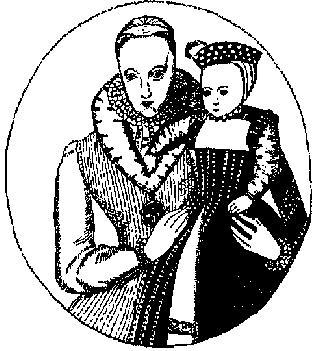 The child in the picture is a boy, and has the typical boy's cap. According to the book, a girl should wear a little biggins cap, so that's what I made for Maria.
The full outfit consisted of a chemise, which had blackwork and a very slight ruffle on the cuffs and collar.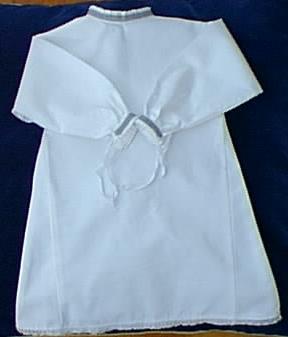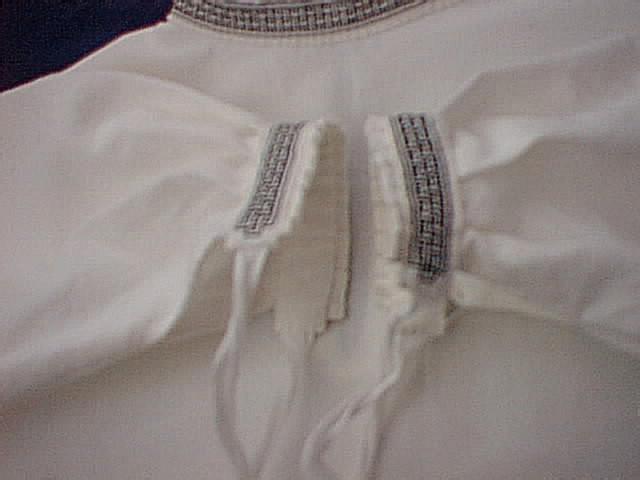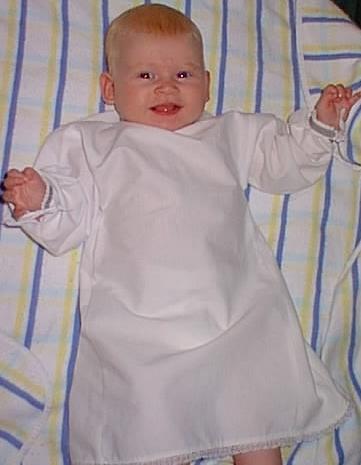 Over that a gown, sleeveless with 'wings'. I had originally planned to make the 'streamers', but ran out of time and since Maria wasn't walking, I felt they weren't necessary. It was made of blue velvet, lined with gold-coloured silk, and decorated with yellow silk ribbon and white cording. It fastens with hooks and eyes in front.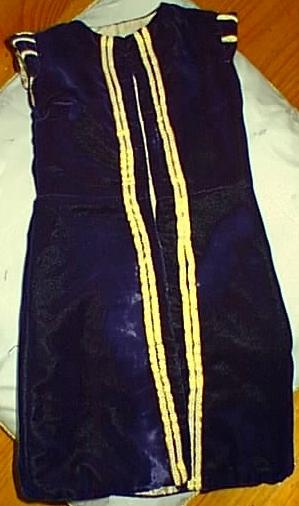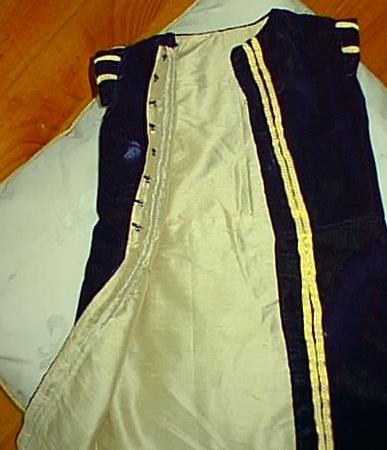 It has separate sleeves, made from a light-blue and gold silk brocade, lined in white silk and small eyelets worked on cotton tape at the top for fastening to the gown. A small wax button fastens the sleeve at the wrist.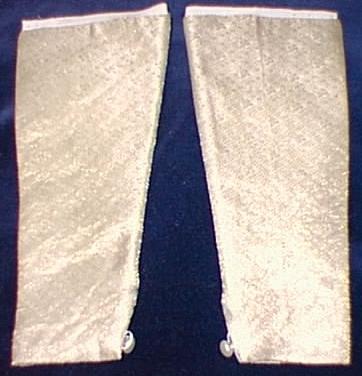 A small lace-edged biggins cap, a muckinder with embroidery and a fringe, and a bib (not shown) completed the outfit. She wore stockings underneath. As you can see, she's quite happy with the impression she makes.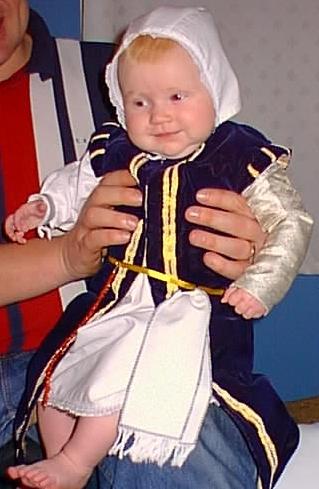 All the fabrics were scraps, left over from my wedding dress. The blackwork embroidery pattern came from the Blackwork Embroidery Archives, and took about a week of infrequent sewing to finish.
(Line drawings from "History of children's clothing in England" by Phillis Cunnington and Anne Buck.)