Women's belts
In the household we mainly use two different kinds of clothing styles. One is a very simple, relatively loose-fitting style of kirtle and surcote, mainly based on the garments from Herjolfsnes. This style had belts over the kirtle, but under the surcote, for such things as keys, purses etc. Belts were purely practical things, not particularly decorative. The kirtle could be worn on its own, without the surcote, at which point the belt would be visible. While a slightly later image, St. Birgitta wears this style in the image below.
The other style we wear is a slightly later look, for special occasions. (The time period we play at was just at the changing point of fashion, from long and loose to short and narrow.) With this style you sometimes see a particular style of belt, very showy, low on the hips, and set with 'boxes'. Queen Helvig wears this style in the image below.
There is a woman's belt preserved from Scandinavia, however it is slightly later. It is shown below, and was in the past ascribed to King Erik (of Pomerania, Margrete's nephew and adopted son).
images are clickable to see a larger version/detail.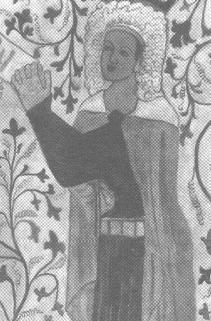 Detail from Mural in the chancel of
St. Peder's church in Naestved. c. 1375.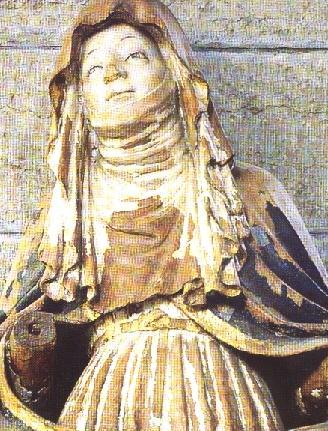 The "exstatic" St. Birgitta. Oak, Vadstena Abbey.
consecrated 1435. Manufactured in Northern Germany.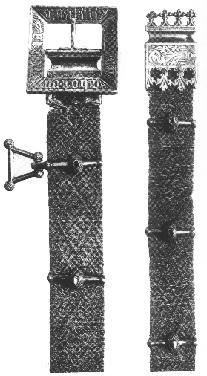 Silver-gilt, semi-precious stones, silk, silver thread.
L. 178cm; W. 3 cm.
Belt with struts 1250-1325, buckle and end facings c. 1450.
Erik's belt
Woven belt with double-sided twill weave in rhomboid pattern of sophisticated technique. Warp in blue, green and red silk with elements of silver thread and red silk. It has a total of 27 struts or stretchers of silver-gilt with a boss in the middle, in which green, red and blue semi-precious stones were set. One of the struts also has a small triangular "stirrup", probably for a bag. In three of the struts, instead of a stone, there is a hole for the tongue of the buckle. The buckle is square, in silver-gilt with a miniscule inscription: help ghot un maria nu altit (God and Mary always be our help). In the middle of one side a crown is engraved, resembling the one on Erik of Pomerania's coins. On the back of the buckle a trademark has been engraved, probably that of the goldsmith, as well as some indistinct initials and roman umbers. The end facings, also in silver-gilt, are decorated with wrought, chiseled and engraved Gothic "crabs" and leaf ornamentation.
At the end of the 18th century the belt was found in a lumber room at Fredensborg Palace, and in 1807 given by the conferensrad Jacobi to Museet for nordiske Oldsager. When the piece was entered in the Museum's records in 1842-43 by J.B. Sorterup, it was ascribed to Erik of Pomerania because the crown on the buckle is like those on Erik of Pomerania's coins, and because the Roman number on the back was misread. The ascription to Erik of Pomerania is more than dubious - it is more likely to be a woman's belt, which, after long, faithful service, was furnished with a new buckle and end facings around 1450.
An earlier style of buckle is in the hoard from Amunde, Gotland.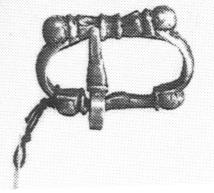 All images from the catalogue for the Kalmar Union 600th anniversary exhibition, Margrete I.