Herjolfsnes 42
Most probably a man's garment made from 2/2 twill, quite heavy. The warp is black, the weft brown, giving a blotchy impression. It was pieced together both at the shoulders and in the sleeves. The back is quite a bit larger than the front, and the shoulder seams sit forward on the wearer. It's quite close-fitting, and the neck opening is rather large. The sleeves are also narrow and the armhole quite small. The sleeves have a 13cm long slit, edged with a row of backstitching. It was probably sewn up when worn. The gown has fitchets, edged with six-plaited cord. The neck is edged the same way, but the hem, which is calf-length, is edged with two-plied cord sewn on with overcast stitches.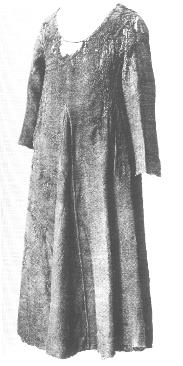 Nörlund draws the pattern with curved side-gores, but Nockert considers this wrong based on an examination of the garment in the National Museum of Denmark.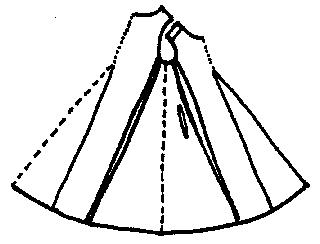 Bibliography: Chapter IV, The Costumes in Buried Norsemen at Herjolfsnes, by Poul Nörlund. Bind LXVII - Meddelelser om Grønland. Kommissionen for ledelsen af de Geologiske og geografiske undersøgelser i Grønland, Copenhagen 1924.
Bockstensmannen och hans dräkt, Margareta Nockert m.fl. Hallands länsmuseer, Halmstad och Varberg, 1997.